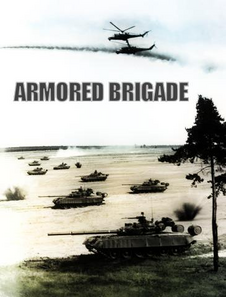 Welcome to the Armored Brigade Wiki
Edit
Armored Brigade is a real-time tactical wargame, focusing on realism and playability. The game has drawn inspiration from classics such as Steel Panthers, Close Combat and Combat Mission.
A commercial version, including drastic gameplay improvements, new features and reworked unit and terrain graphics is being actively developed with scheduled completion during late 2017
Description
Edit
Armored Brigade simulates modern combined-arms combat from platoon to regiment/brigade level from a top-down perspective. Players can control individual vehicles, platoons and companies. Infantry is mostly in squad/section-sized units.
Unit morale, experience level and fatigue, command delay, a wide set of weapon and vehicle parameters are all taken in to account to produce realistic combat simulation.
A wide range of orders are available, supplemented by a set of Standard Operation Procedures, such as different rates of fire, engagement ranges and dismount policy. Furthermore, units can be organized in one of nine formations with customizable spacing between individual vehicles.The game features dynamic time of day and variable visibility, wind and ground conditions.
The games are currently single player played against the AI. AI is able to analyse terrain both in offensive and defensive operations, and conduct manoeuvres according to one of predetermined routines - Armored, Mechanized or Infantry with emphasis placed on the corresponding unit type.
Main Features
Edit
Real-time engine
Time period: 1965-1991
Nationalities: US, USSR, West and East Germany, UK, Finland and Poland
Lowest level unit is a single team/vehicle
Dynamic AI
Large maps, based on real terrain. The maximum battle size is about 15x15 kilometers
Neutral units
Artillery with several munition types
Close air support, air defences. Air-to-air engagements are possible
Fortifications, obstacles and breaching
Dynamic time of day and variable visibility, wind and ground conditions
Night vision equipment, smoke generators, illumination flares
Unit morale, experience level and fatigue, command delay
External XML database for the armies, units, weapons etc.
Battle and map generator
3D sound engine
Wider time-frame: 1939-1945
More nationalities
Scenarios and editors
Linux support
Need help?
Edit
Latest Activity

Edit
Ad blocker interference detected!
Wikia is a free-to-use site that makes money from advertising. We have a modified experience for viewers using ad blockers

Wikia is not accessible if you've made further modifications. Remove the custom ad blocker rule(s) and the page will load as expected.